It's no surprise that carving out a niche to differentiate your business is important.
And in a crowded market, it can be a major challenge to stand out from your competitors. But Vecteezy was able to do just that. Launched in 2007, the stock graphics marketplace prides itself on simpler pricing, greater affordability, and straightforward licensing.
"Our point of differentiation is simplicity and a lower barrier to entry," says Nick Power, Director of Marketing at Vecteezy. "That differentiation matters to potential customers, especially small business owners who may have less budget to spend," adds Power.
However, customers can't take advantage of those differentiators if they don't know about them.
Amplifying the customer voice to stand out
For that reason, Vecteezy started its partnership with G2, quickly collecting 20-25 reviews via email outreach as a means of having authentic user voice elevate their brand and message their competitive edge.
"Our customers do a lot of research before they make a purchase decision, and there are many reasons to go with one brand over another. During the consideration phase, people want real information from real customers," explains Power, who also hoped to work towards earning Vecteezy a spot on G2 category lists.
"We wanted to use G2 to really build our credibility and social proof."

Nick Power
Director of Marketing at Vecteezy
While the reviews garnered from email outreach were a step in the right direction, the company knew it needed a larger and deeper collection of reviews to truly convey to customers what made the company special.
Challenges
Ensure reviews are from customers most familiar with the products
Automate review generation
Dramatically improve the number and quality of customer reviews on G2
Capture enough positive reviews to be on G2 lists with key competitors
They also wanted to connect with users who had multiple interactions with Vecteezy, had the company top of mind at the time of writing reviews, and would provide informed, quality reviews that would help others choose Vecteezy.
That's where the G2 in-app review levers came into play.
Automated, in-app lever brings reviews to a whole new level

In March 2022, Vecteezy launched an automated G2 pop-up review lever within its own platform. Customers see the pop-up asking users to provide a review while they are actively using the site, which means that Vecteezy is able to catch customers at the moment they are most engaged.
"I really like the in-app process because it delivers review asks people that we know have used our products and who are using us at that very moment, which makes it more likely they will write a review," says Power. "They are familiar with us and more likely to give an honest review because they have skin in the game. An email ask is great, but who knows if the customer will read the email or is engaged enough at that moment to want to review us."
Solutions
Automate review generation with In-App Review Levers
Improve review quality by meeting customers where they were: on the Vecteezy site
G2's in-app review levers make it easy to embed automated review asks on vendor websites and platforms. The review asks are linked directly to the G2 review process and removes the need for a reviewer to log in at G2.com.
It also eliminates the requirement that vendors supply G2 with customer email lists to fuel Review Campaigns.
Vendors collect reviews without having to overcome multiple team requirements, compliance regulations around data privacy, or lack of direct access to customer lists – all while delivering a far better experience for users.
"While we will continue to do email campaigns here and there, they can be a heavier lift," says Power.
"The in-app review lever makes the process of asking for reviews so simple and easy. Once it's up, you just watch the reviews roll in."

Nick Power
Director of Marketing at Vecteezy
Once Vecteezy launched the in-app review lever, the reviews didn't just roll in – they came in at a rate of hundreds per month. And not only were the reviews plentiful, but they were also detailed, thoughtful, and at times, colorful – as you can see in the example below.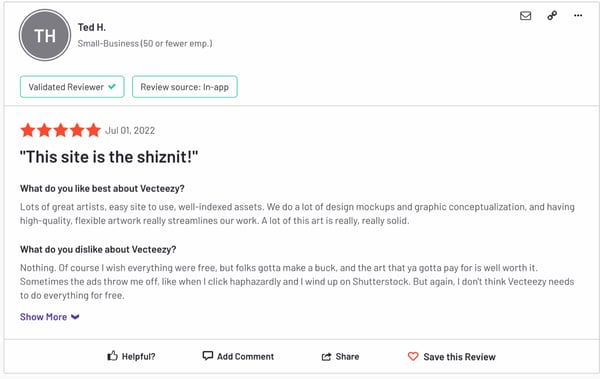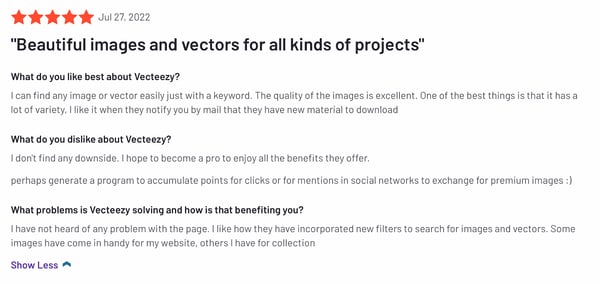 Power and his colleagues love to share reviews like these on their Slack channel, fondly called the Wall of Love. "These fun, positive reviews are great for our company culture. They are awesome morale boosters," he adds.
Power also believes reviews help to attract top talent in the tech industry because "potential hires see that we are legit and make excellent products."
Reviews such as these are marketing gold, and Vecteezy has been applying them to their sales presentations and email outreach, as well as working on an upcoming social campaign that integrates them.
Celebrating nearly 1,000 5-star reviews in six months
Vecteezy currently has 1,148 reviews on G2. Of those reviews, 990 are 5-star, and 142 are 4-star. Almost all of them are a result of the automated in-app review lever and were generated in only six-months-time!
All of those high-quality reviews also mean that Vecteezy was eligible to be considered for G2's reports. Vecteezy is currently listed as a Leader in both the Stock Photos and Stock Footage categories.
"It all goes back to building brand awareness, brand confidence, and brand discoverability. A lot of people go to G2 for recommendations or alternative options if they've had a bad experience elsewhere," says Power. "They're looking for where they can expect a good experience from a different brand in a similar category."
"Earning a spot on the G2 lists in our categories has been really important for us and we're really excited to see our name among – and at times, above – some of our competitors."

Nick Power
Director of Marketing at Vecteezy
With more than 1,100 authentic reviews in less than six months, Vecteezy is looking forward to even more quality feedback due to the in-app review lever in the months ahead.
1,100+
reviews in less than 6 months
98%
of reviews were 4-star or higher
2
target software categories where Vecteezy is a leader
"It's always powerful to have more reviews because it's a more authentic score of your reliability. We went from a couple dozen or so reviews of positive experiences to more than 1,000 reviews of great experiences because of the in-app review lever, says Power. "Needless to say, we are thrilled."
Ready to send your business into high gear and become a G2 Leader? Learn how to drive more revenue with G2 Marketing Solutions.