For many companies, capturing customer feedback and effectively leveraging the voice of their customers can be a major challenge.
But if you're anything like Salesloft, you won't just set out to collect reviews, you'll make customer feedback an integral part of your company strategy.
Salesloft is a sales engagement platform launched in 2011 by CEO Kyle Porter to help sellers execute all of their digital selling tasks, communicate with buyers, understand what to do next, and get the coaching and insights they need. The growing company is headquartered in Atlanta, Georgia, and used by sales teams at IBM, Shopify, Square, Cisco, and more.
Salesloft started its partnership with G2 in 2014, but didn't have a great strategy in place for customer outreach. Alexandria Snow, Product Marketing Director at Salesloft, joined the team in 2018 and realized there was a huge opportunity to better leverage the G2 platform.

The team was a "bit gun-shy when it came to coordinating peer review strategies and reaching out to customers for feedback," explains Snow. They also weren't digging into the myriad reports available through G2, and the information they were gleaning was not getting shared internally to drive reviews or sales strategies.
Capturing the voice of the customer

Snow understood the power of using customer voice to drive sales. She had previously managed a small technology customer success team. She knew there were limitless possibilities available on G2 to increase market presence, maximize reviews, reach active buyers, and grow sales.
So, she got to work and immediately reached out to her G2 customer support team.
Goals:
Leverage the customer voice to drive sales
Empower the sales team to use G2 Reviews throughout the sales cycle
Reach active buyers and grow pipeline
When Snow connected with G2, she shared a list of customers who might be open to writing a review or recording a video review on G2. The G2 team quickly got to work creating a G2 Review Campaign to send a scheduled cadence of emails with a link to the Salesloft G2 landing page to solicit feedback – mindful to space those asks and reminders out in a non-intrusive way.
Power Plan customers like Salesloft receive gift cards equal to $1,000 to thank their customers for taking the time to provide a review. Gift cards can be distributed in various increments as desired, and are awarded regardless of the content of the review.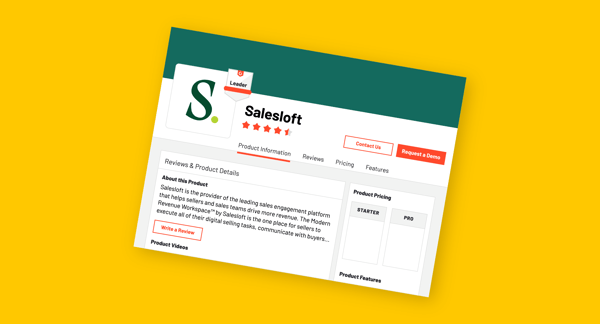 "I loved having G2 handle our review outreach campaign when I was busy, but also loved that I could pause with G2 sending our emails directly, and I could use our own system for personalized emails from me when time allowed – with all reviews going to our G2 landing page. This communication partnership resulted in an 85% response rate," says Snow.
All reviews submitted by customers are put through G2's review moderation process, which requires users to validate their professional use of the product and their identity through LinkedIn or by sharing an active product screenshot.
This ensures the credibility and trustworthiness of G2 reviews. Reviews give in-market buyers direct, trusted insights into how people like them (aka your customers) really feel about you and your product.
G2 Solutions get "gold" from customers and in front of new ones
With so many new reviews, Snow was eager to leverage them to drive sales. She says, "The next step was, how do we get this gold in front of our customers?"
G2 makes that part simple.
Salesloft already benefits from the millions of eyes a month that visit the G2 website to research, compare, and buy software and services. As a Power Plan customer, Salesloft has advanced G2 profile customization, allowing them to tell their marketing and branding story the way they want to.
Salesloft also has a G2 Content Subscription, which means they have access to a powerful bundle of user-driven content proven to influence prospects and customers – sourced directly from G2 Reports.
With Content, Salesloft can highlight its standings in G2 Reports in comparison to competitors and let customers tell the story of their product's value. There are no designers needed to create sleek personalized infographics or social assets to share G2 information with prospective buyers.
Solutions:
Leverage G2 Marketing Solutions to build brand awareness in a target software category
Run G2 Review Generation campaigns to collect more reviews from customers
Provide sales reps with G2 Compare Reports to help them create and close more opportunities with potential buyers
Snow says, "From our G2 reviews and reports, we curated a big deck of slideware that we call our Customer Story Flipbook. It's one of our most popular sales tools!"
Snow also uses the information in the Flipbook to present internally to the Salesloft team on their rankings and growth, and she shares the G2 Report links with team members so they will "go forth and prosper."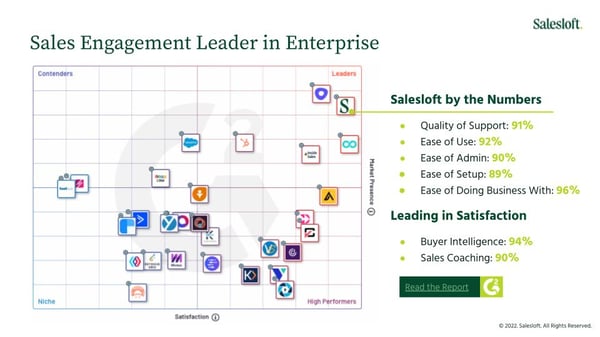 The head of the team, CEO Kyle Porter, is particularly enthusiastic about G2 reports, reviews, and dashboards. Snow says, "Our CEO loves G2. It's probably his favorite metric because it represents the user voice."
Snow continues, "[Porter] loves to read individual reviews and talk about where we're ranking. He always wants to know what's going on with G2 and reports. We have it set up in our Slack channel. It's something that he checks regularly and something that we all feel really passionate about."
In addition to using G2 content in every sales presentation and to motivate staff to improve, Salesloft also leverages G2 content on the main page of its website. There, you can see the voices of real customers like Account Executive Coralie and the Head of US Sales John.
Salesloft highlights that they have over 2,600 reviews on G2 with an excellent 4.8/5.0 overall star rating.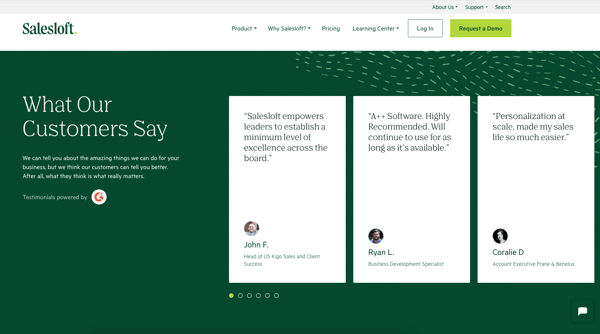 Snow and team also use reviews and reports to take action.
She explains, " We make a point of being very responsive to G2 reviews, and whenever possible, we find the exact individual or department responsible for any negative feedback and ensure they have reached out to the customer directly to make it right. This information is also important so that our team members get feedback directly when something goes wrong so they can improve."
"As reviews come to G2, it's important for us to respond to them, especially if a customer is unhappy."

Alexandria Snow
Product Marketing Director at Salesloft
Salesloft prioritizes being responsive to customers, which is why G2 Discussions are also an important feature for Snow and the team. G2 Discussions enable G2 visitors to ask questions about products and receive responses to them. It's an opportunity for Salesloft to directly engage with users or buyers to assuage concerns, provide detailed responses, or push them over the finish line to purchase.
G2 reviews drive major pipeline growth

Snow credits G2 with having a massive impact on Salesloft's sales. She notes that G2 influenced $781,250 in Salesloft revenue and $1,822,053 in pipeline.
$781,250
revenue directly influenced by G2
$1,822,053
in pipeline driven by G2
85%
campaign response rate
However, Snow says this does not account for the "prolific nature of G2 quotes leveraged in Salesloft materials throughout the deal cycle. G2 is truly everywhere! When I say it's involved in every deal, I don't think there's a single deal that comes across Salesloft that doesn't include a G2 touchpoint."
Sell more, grow more. Connect with millions of software buyers and drive revenue with G2 Marketing Solutions.