Expanding an established business overseas is easier said than done. GoCardless, however, successfully broke into a new market in under one year with the help of G2 Marketing Solutions.
GoCardless is a global leader in account-to-account payments, making it easy to collect both recurring and one-off payments directly from customers' bank accounts. The company currently works with over 60,000 businesses worldwide, ranging from small businesses to enterprises. Its payment solutions help businesses reduce transaction costs, lower churn, and gain better oversight of revenue.
But GoCardless wasn't always operating at the global scale it is today.
After finding great success in the United Kingdom, starting with small businesses and moving up-market to the enterprise, GoCardless began branching out to the North American market. At the end of 2019, GoCardless opened an office in the United States to begin scaling business in North America.
Jennifer Ellis, North American Marketing Director at GoCardless, reflects on the expansion, "We've really scaled the business in North America, even during COVID-19. But given we were new to the market, the biggest hurdle we faced was that businesses weren't familiar with the service GoCardless provides: using bank debit as a payment option to improve business."
"Businesses in the U.S. are used to paying by checks, wire transfers, and credit cards," Ellis explains. "But with bank debit, they are able to save money that is being spent on wire transfers and credit card fees. Companies can reduce their day sales outstanding (DSO) when they use bank debit versus checks."
A fresh strategy to help break into a new market
The biggest hurdle GoCardless faced when breaking into this new market was awareness. GoCardless needed to spread the word about their brand and mission while also educating prospective buyers on the benefits of their solution.
"In North America, we were challenged with building awareness for both the brand as well as the pain of collecting payments," Ellis explained. "Businesses traditionally pay by check or wire transfer, putting payments on credit cards because those payments have worked for so many years. We wanted people to see that there is a better way to collect payments, and that's what we are focused on."
Problems
GoCardless wanted to break into the North American market by:
Spreading brand awareness and sharing the GoCardless mission and vision
Finding high-intent buyers and educating them on the pain point and solution
Since GoCardless is headquartered in the UK, many businesses in the North American market weren't familiar with them just yet. These prospective customers also didn't understand the pain points they currently face with collecting payments - they just accepted them as part of doing business.
"Credit cards aren't always the best solution for a recurring payment," Ellis says about GoCardless' bank debit solution. "Cards expire, get deactivated, frozen, or lost - plus the processing fees can add up and become very costly. With bank debit, account numbers don't change, making automatic recurring payments much easier and cheaper than credit cards and their corresponding fees."
Utilizing resources to identify prospects and spread awareness
GoCardless' North American team became laser-focused on leveraging G2 solutions in their quest to expand within the market.
Solutions
GoCardless partnered with G2 to:
Run G2 Review Campaigns to solicit authentic, marketable user feedback to continuously attract new visitors and fuel their buyer intent data
Tap into G2 Buyer Intent data to unveil high-intent prospects and identify the right contact within the company for outreach
Utilize the G2 Content Subscription to build brand awareness and access custom reports for mid-to-bottom-funnel prospects
To establish their brand and build credibility in the North American market, GoCardless runs G2 Review Campaigns to collect valuable user reviews that fuel placement on the G2 rankings and grid. The traffic attracted from these campaigns helps spread brand awareness and ultimately influences the brand's buyer intent data.
GoCardless' presence on G2 has been invaluable for brand awareness. The more reviews the brand captures on their profile, the higher they rank on G2 category pages. This results in high visibility and traffic to their page and, ultimately, even more buyer intent data for the GoCardless sales team.
"It helps for us to be listed within the rankings when customers are visiting G2 to research," Ellis says. "They see GoCardless and can easily learn more about us."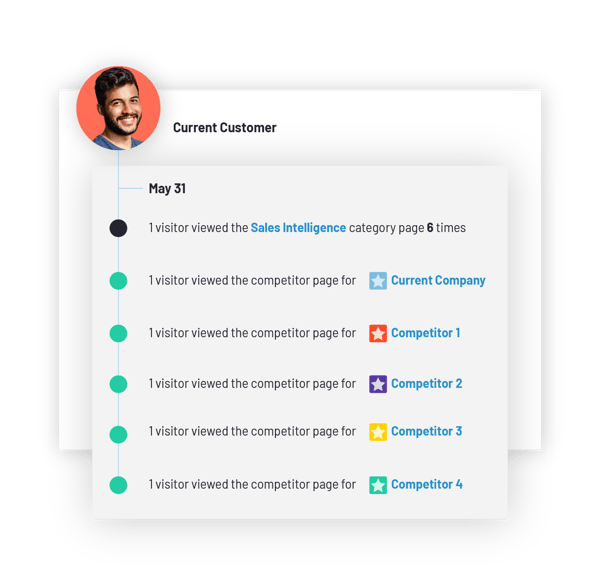 Example of G2 Buyer Intent Activity
G2 Buyer Intent data has helped the GoCardless sales team identify surging accounts. As the most powerful intent data on the market, G2 Buyer Intent helps brands like GoCardless learn which companies are researching their products and competitors, then find the right person at those companies to contact.
Ellis discusses how a GoCardless sales rep utilized buyer intent: "There was a company looking at our G2 profile, clicking our ads, and comparing us to competitors. They were able to take that intent data and see where the company was located – in this case, Livermore, California. Using G2 integration tools like LinkedIn Sales Navigator with our buyer intent data, they were able to discover the right contacts in this company: decision-makers in the finance department. They then narrowed it down to two or three individuals in finance so they could reach out to the prospect."
"We found the right account with G2 Buyer Intent data and the right person with G2 + CRM Connector for Salesforce integration."

Jennifer Ellis


North American Marketing Director at GoCardless

Ellis also says that GoCardless completely revamped the company's tech stack. This robust bank of software means the GoCardless team can utilize G2 Buyer Intent data in tandem with other helpful tools, such as Demandbase and Chili Piper, to pin down the right prospect and tailor their messaging appropriately.
GoCardless has also reaped the benefits of the G2 Content Subscription, a solution that provides the company licensing for G2 quarterly reports, social assets, video reviews, and other content to help influence prospects.
The Content Subscription provided the GoCardless sales team access to game-changing tools during live calls with prospects. Ellis explains, "If [a salesperson] is talking with a prospective customer who is scoring us against our competitors, they can utilize a custom comparison report for those conversations right on the spot. Our sales team can use one-to-one or one-to-many G2 comparison reports to show prospects how we stack up against our competitors."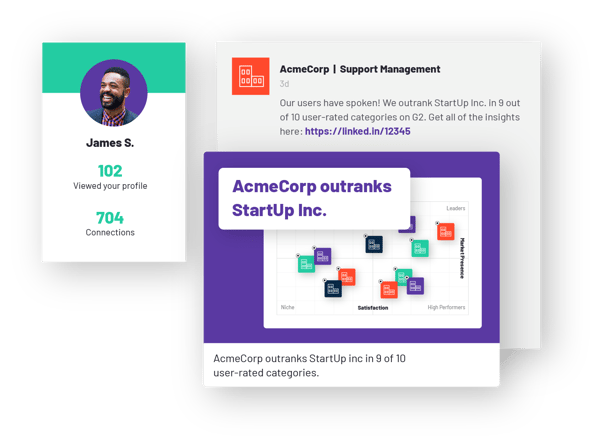 Example of assets from the G2 Content Subscription
Leveraging review campaigns and pinpointing high-value prospects
Initially, Ellis and her team thought these solutions would be heavily driven by marketing. "I thought [the G2 solutions] would be helpful for driving MQLs," Ellis recalls. "From a marketing perspective, I was hoping to leverage the customer voice to build awareness for GoCardless."
In the end, G2's solutions far exceeded GoCardless' expectations. "Based on reporting, I've also found it to be really helpful for prospects that are mid-to-late-funnel. Prospects who were considering or evaluating our product have now moved on to having conversations with our sales team," Ellis explains.
More authentic user reviews
Starting in August 2020, GoCardless implemented numerous G2 Review Campaigns to help attract visitors and build their G2 product profile. GoCardless was able to leverage G2 Review Campaigns to drive 97 new reviews, propelling them to a #1 ranking on nine different G2 reports - all between August 2020 and July 2021.
Prior to these campaigns, GoCardless was already listed as a leader in their primary software category payment processing. However, GoCardless is now a high-ranking software in other relevant categories: Payment Gateways, Subscription Revenue Management, Enterprise Payment, and Installment Payment.
97
new approved user reviews between August 2020 and July 2021.
Better prospects, higher engagement
In a 6 month period, between September 2020 and March 2021, GoCardless found that G2 was the first touchpoint for over 400 accounts in North America. These prospects may have seen a sponsored content ad on G2, viewed GoCardless' G2 profile, or compared GoCardless against their competitors prior to visiting the GoCardless site.
For marketing, this helps reaffirm that prospects are finding and researching GoCardless on G2 before visiting the site. And for sales, the buyer intent data is extremely valuable to help prioritize the teams' outreach.
"G2 Buyer Intent gives additional help with prospects and the Content Subscription helps build awareness, credibility, and leadership in a new market."

Jennifer Ellis


North American Marketing Director at GoCardless
Across all geographies, G2 provides GoCardless with higher-value visitors. This is especially true in the U.S., which has helped the brand break into the North American market.
28%
lower bounce rate for users who come from G2 to the GoCardless site.
Compared to the average GoCardless U.S. site visitor, those who have come from G2 have lower bounce rates (40% compared to 68%), visit more pages per session (3.62 vs. 1.44), and have a higher average session duration (5:25 minutes vs. 1:06 minutes).
393%
increase of average session duration for users who come from G2 to the GoCardless site.
151%
increase of pages per session for users who come from G2 to the GoCardless site.
GoCardless saw the value of incorporating G2 Review Campaigns, G2 Buyer Intent, and Content Subscription solutions into their sales and marketing playbooks. What was initially meant to complement the marketing team's awareness efforts turned into a useful toolkit for GoCardless reps working the top, middle, and bottom of the funnel.
Not only has GoCardless been able to expand their reach and spread awareness, but their teams are now also equipped with the proper resources to pinpoint high-value opportunities - making the sales process more efficient on both ends.
"Our sales and marketing teams have been really pleased by bringing G2 into our tech stack," Ellis says. "We're excited to see how G2 can continue to help us scale GoCardless not just in North America, but in other regions as well."
Implement G2 Marketing Solutions today
Millions of people research, compare, and buy software on G2 each month. And this extremely valuable buyer data is right at your fingertips.
Looking to accelerate the sales cycle and drive more revenue? Schedule a demo to learn more about G2 Marketing Solutions.